Visit our Chapter's website at www.CentralCoastNRHS.com
Central Coast Railway Club
Current Offerings: Roaring Camp Railroad | High Sierra Adventure
---
Roaring Camp Railroad
May 20, 2017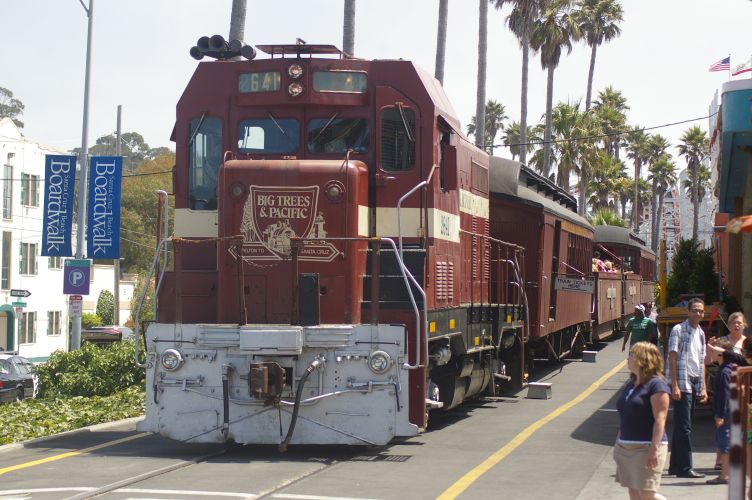 Come spend the day with family and friends on Saturday, May 20, 2017, and take a great train ride!

Travel on the Big Trees and Pacific Railroad from Roaring Camp down the scenic San Lorenzo River Gorge to the Santa Cruz Boardwalk and return.

The adventure begins with an optional Steam Engineer Talk at 9 AM. The train for Santa Cruz leaves at 10:15 and arrives at the Boardwalk at 11:15 PM. The return train leaves Santa Cruz at 12:15 and arrives back at Roaring Camp at 1:15. You may also lay over in Santa Cruz and come back on the 4:15 PM train.

Lunch will be available for your purchase at Roaring Camp when we return.

There is the possibility of a Diesel Engineer Talk after our return from the Boardwalk, given enough interest.
Ticket Prices:

Adults $29
Children (2-12) $23
Optional Steam Engineer talk $5
Optional Diesel Engineer talk $5 (pending enough interest)
To purchase tickets, please click here.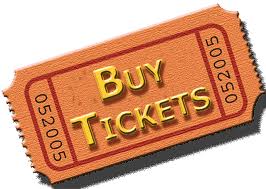 ---
September 2-4, 2017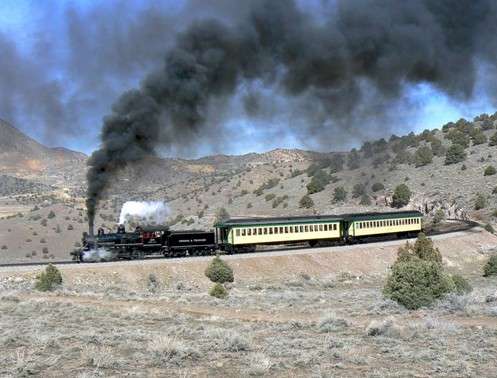 The Central Coast Railway Club and Trains & Travel invites you to come join us over the three day Labor Day Weekend for an exciting get-a-way up in the High Sierra Mountains and the Reno/Carson City/Virginia City areas.
Our relaxing mini vacation will include riding Amtrak's California Zephyr both directions over scenic Donner Pass, spending an evening in the wild west mining town of Virginia City, riding the steam powered Virginia & Truckee Railroad, visiting the Nevada State Railroad Museum in Carson City, sightseeing around Lake Tahoe and enjoying the vast rail collection at the Western Pacific Railroad Museum in Portola located at the upper end of the Feather River Canyon.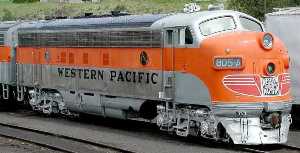 Itinerary:
Day 1, Saturday, September 2:

We begin our rail adventure at the Emeryville by boarding Amtraks California Zephyr which departs at 9:10am and heads east towards Sacramento and the High Sierra. Perhaps you would like to go to the dinning car for breakfast as you enjoy the views of San Pablo Bay and if it is clear the Golden Gate Bridge before our stop at Martinez. You are welcome to board at Richmond, Martinez, Davis or Sacramento. The train departs the capitol at 11:09am and shortly after leaving Roseville starts the long climb towards Donner Pass and the summit at Norden. We start the steep climb into the High Sierra Mountains with scenic views of towering mountains, deep canyons, lakes, rivers, and remote forests. You will see several old gold mining towns from the train as we travel over the first Transcontinental Railroad which was completed in 1869. At the summit of Donner Pass our train reaches 6,891 feet and starts down the eastern slope of the High Sierra following the Truckee River all the way to the Reno, Nevada arriving at 4:06pm. Shortly after detraining we are on our way to the wild west mining town of Virginia City onboard our charter motorcoach. If everything is running on-time we should be checking into to our hotel in Virginia City at around 5:30pm. The rest of the evening is yours to explore colorful Virginia City. An almost full moon will rise at around 5:15pm and light up night sky and countryside for the evening.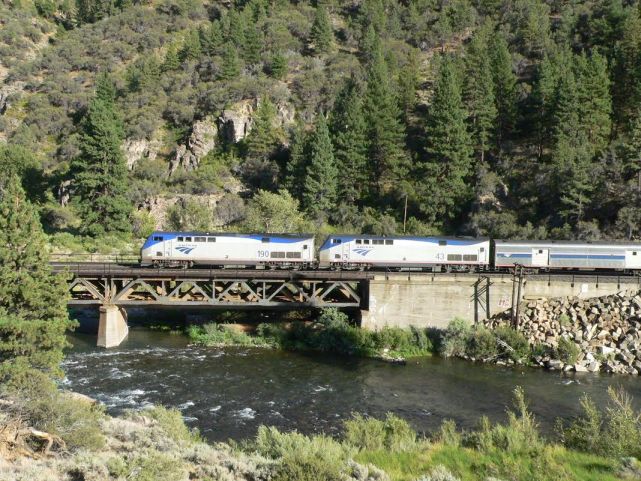 Day 2, Sunday September 3: (Labor Day)
For those folks that would like to ride Virginia & Truckee Railroads deadhead move from Virginia City to Carson City they are welcome to so. This train will depart Virginia City at 5am for the hour trip to East Gate Station near Carson City. For the rest of the group we will depart from our hotel in Virginia City at around 6am and ride our charter motorcoach down to the East Gate Station. Once the steam engine is run around the train and serviced we will have the opportunity to stage some photo run-bys for the photographers in the rugged Carson River Canyon which is just below East Gate. All too soon it will be time to whistle off and begin the long and steep climb up to Virginia City. Enjoy the sights and sounds of our hard working steam locomotive tackle the steep grades as our train climbs the hill for the next 12 miles back to Virginia City. The views are spectacular in the morning sun and we should even be able to see a few wild mustang horses on the hillsides. Back in Virginia City for those interested we will offer you a tour of the railroad workshops. For those folks that would like to sleep in you are welcome to ride the first Gold Hill train of the day which departs Virginia City at 10:30am and run down to Gold Hill returning in Virginia City at 11:05am.

Shortly after arriving back in Virginia City we board our motorcoach and head down the mountain to visit the Nevada State Railroad Museum in Carson City. We will have a picnic box lunch at the museum and depart around 2pm for the bus ride to Portola in the Feather River Canyon by way of spectacular Lake Tahoe.


Once in Portola we go directly to the Western Pacific Railroad Museum which has a large collection of diesels, rolling stock and even a steam locomotive. The museum will be operating and caboose and cab rides will be available to all. After our Museum visit we go the short distance to Blairsden and visit Chris Skows Garden Scale outside model railroad and his large collection of railroad artifacts that he has been collecting for the past 52 years. An all you can eat Mexican buffet style dinner and endless Margaritas and open bar will be enjoyed by all on his deck deep in a pine tree forest over looking the Feather River Canyon as the full moon comes up over the High Sierra. After dinner we return to Portola for motel check-in.
Day 3, Monday September 4:

If Amtraks westbound California Zephyr is on-time then we will depart from Portola at on our motorcoach at 8:00am for the one hour ride to Truckee. The Zephyr departs at 9:37am for the westbound journey over Donner Pass with an arrival back in Emeryville at 4:10pm.

Price: (Per Person):


| | |
| --- | --- |
| Double Room Occupancy | $595 |
| Single Room Supplement | $98 |



Tour Includes:

-Two Meals
-Fully Escorted
-Two Nights Lodging
-Round Trip AMTRAK Train Tickets
-Entrance to Both Railroad Museums
-Ticket on the Virginia & Truckee Railroad
-Workshop Visit on the Virginia & Truckee Railroad
-Charter Motorcoach Per The Itinerary All three Days

To purchase tickets, please click here.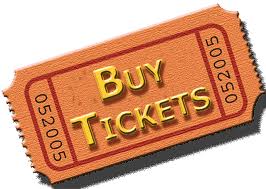 ---
If you would like to be notified of future trips via email, click here
---
CONTACT US
You can email us at info@GoldenStateRails.com or call us at 408-766-4451
---

Follow us on Facebook!
---
Check back often for up to the minute information about our trips, or to be notified of future trips, click here to complete the form.
---
This page last updated on 2/1/2017